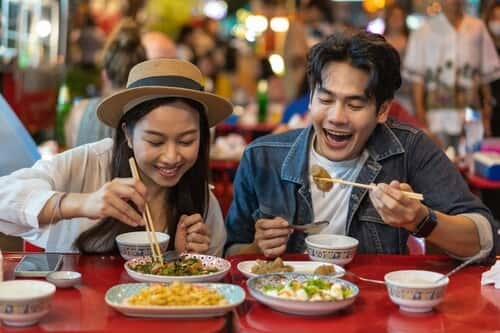 Dallas Date Night: Thai Food
What Makes Thai Food The Perfect Cuisine for a Dallas Date Night?
Thai food is one of the most popular ethnic cuisines, and for good reason. With its complex blend of sweet, sour, salty, and spicy flavors, Thai offers an explosion of taste that is sure to excite an adventurous palate.
Aside from the excitement that Thai food brings, it also makes for an excellent choice for a romantic date night meal.
Whether you're looking for the perfect Thai restaurant in Dallas or want to spice up your date night takeout menu, here are some of the reasons why Thai cuisine is ideal for impressing your partner during your next big night together.
Thai Offers a Variety of Flavors
One of the best things about Thai food is the variety of flavors it offers. Many Thai dishes strike a careful balance between the five fundamental taste senses - sweet, sour, salty, bitter, and spicy.
The sweetness often comes from ingredients like palm sugar, coconut milk, or sweet chili sauce.
Tart lime juice, tamarind paste, or vinegar provide the sour notes. Fish sauce, soy sauce, oyster sauce, and shrimp paste contribute to saltiness.
Bitterness shows up as a hint of flavor in herbs and vegetables like bitter melon. And no Thai dish is complete without the spice from chili peppers and curry pastes.
Any Thai menu is a diverse jumble of tastes that make any meal a treat for your next date night.
Visually Appealing Dishes
You've all dressed up to look your best for your partner, so your meal should be as equally appealing.
Great food should engage all the senses, including sight. Thai cuisine wins high marks for visual presentation with colorful ingredients like red and green curry pastes, purple basil, bright orange carrots, shiny peppers, and green garnishes like cilantro and lime wedges.
In Thai cooking, even common proteins like chicken, beef, shrimp, and fish are arranged in equally eye-catching ways. Even the serving vessels - ornate plates, woven baskets, and coconut shells - add to the Instagram-worthy appearance that you'll want to share with a loved one.
Your date will be just as impressed by how pretty the food looks as how great it tastes.
Shareable Dishes
Part of what makes a meal feel special is being able to sample a variety of items. Thai food is perfect for sharing, with communal plates placed in the center of the table.
This shareable, interactive dining experience allows you and your date to try many different tastes without getting full too quickly. Go for a selection with spicy, tangy, herby, and creamy flavors simultaneously. Nearly any combination of Thai delicacies can lead to a balanced meal with scrumptious bites to share - and feed each other!
Speaking of feeding each other, there's something intimate and playful about hand-feeding your date a perfect morsel of food.
Thai dishes lend themselves to an interactive dining experience.
Hand rolls like fresh spring rolls and summer rolls are fun to assemble together. Dipping sauces served on the side let you customize each bite. The best part about Thai being shareable is, that you can continue sharing after your dining experience ends.
Vegetarian and Vegan Options
Thai cuisine is ideal for vegetarians and vegans, with tasty meat-free dishes that use fresh vegetables, herbs, rice, noodles, and tofu to bring out solid flavor. Vegans will appreciate that most Thai curries and stir-fries can be made without fish sauce or oyster sauce.
Meat substitutions like seitan or extra firm tofu make popular dishes like pad Thai just as satisfying. With so many plant-based protein options, you'll find Thai dishes to satisfy both cravings.
Bring on the Heat
Some like it hot, and Thai food delivers on that desire! The signature Thai spiciness comes from chili peppers and curry pastes.
Start mild with a panang or massaman curry, then work your way up to the extra spicy green curry if you dare!
The various spice levels will get your hearts pumping and endorphins flowing. You can even make a game of trying each other's limits. However hot you like it, Thai cuisine satisfies your spicy cravings.
Complex Yet Balanced
Although Thai dishes have many ingredients, the flavors come together in a harmonious way. Nothing overpowers. Everything works together to create a symphony of tastes.
Sweet balances spicy, crunchy balances soft, rich curry balances bright herbs.
At Family Thais, we understand balance is everything. That's why we do everything in our power to provide satisfying complexity without being overwhelming. You and your date will be transfixed, trying to decipher the layers of flavors in every bite. We're proud to serve you an edible work of art.
Spice Up Date Night with a Visit to Family Thais
The next time you plan a romantic night out in Dallas, consider making it a special meal with Thai on the menu.
From sharing a succulent dish to savoring exotic aromas together, and testing the boundaries of spice, there's a lot to love about a tasty Thai dish.
Family Thais near the West End District of Downtown Dallas is a local spot that offers traditional Thai in a laid-back city setting. Stop in for a bite or grab your food on the go. No matter you're choice, we're here to help you make your night the best.
Contact us today to learn more about our location!