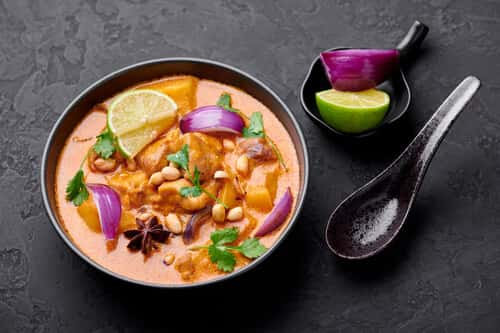 Thai Food that Brings the Art of Spice
Falling in Love with Thai Food
Thai food has become a staple in the American diet. So often people find themselves ordering out for Thai or practicing their culinary skills with the cuisine in their home kitchens.
Why do people love Thai food so much? It's simple! As fellow lovers of Thai cuisine, we view the food as the perfect balance of fresh, spicy, sweet, and tangy.
Every flavor created through the art of Thai cooking is delivered through exquisite dishes that can be enjoyed as part of a unique dining experience we're proud to offer at Family Thais.
Today, let's delve into what makes Thai food special and share some classic examples that are sure to have you craving for a taste. So put on your bib, get ready for some spice, and be prepared to fall in love!
It's time to get in touch with your local Family Thais!
Thai Food Creates a Symphony of Flavors
The first thing that strikes you when you taste Thai food is the perfect balance of flavors in every bite. Sweet, salty, sour, and spicy are all staples of Thai cooking.
At Family Thais, we masterfully blend all these sensations together to create a heavenly taste that leaves you craving more. We accomplish this using the artistry of cooking and the use of fresh ingredients like Thai basil, lemongrass, lime, and fish sauce, among others.
The result of every careful medley we create is an explosion of flavors that tantalize your taste buds like nothing else can.
Thai Brings the Art of Spice
One of the factors that set Thai cuisine apart from others is the emphasis on spiciness. Thai food is known for being deliciously and at times, dangerously spicy.
Much of the heat comes from using bird's eye chilies. These small, fiery chilies pack quite a punch, so don't let their size deceive you!
However, the beauty of Thai cuisine is that you can always customize the level of spiciness in your dish, making it perfect for those who might be new to the world of heat our cuisine has to offer.
Thai Food is Very Health-Conscious
While Thai food is a riot of tastes and textures, it's not just about the flavors. Thai cuisine has a strong focus on fresh and healthy ingredients. You'll often find dishes loaded with vegetables.
Protein-rich ingredients like tofu, chicken, and shrimp are also part of many Thai meals. Even herbs and spices commonly found in Thai dishes are well-known for their supposed health benefits, with ingredients such as turmeric, ginger, and galangal revered as natural healers.
Culinary Experience for All
From the famous Pad Thai to the lesser-known Massaman Curry, there's a Thai dish for everyone. Whether you're a seafood lover or a vegetarian, Thai cuisine caters to every preference.
Vegetarians are bound to enjoy dishes like Tom Kha Gai, a creamy coconut soup infused with kaffir lime leaves and galangal. At the same time, meat lovers can sink their teeth into succulent dishes like Beef Panang Curry.
With such a diverse range of dishes on offer, it's no wonder that the world has fallen in love with Thai food.
Appealing to the Eye and Stomach
Thai food doesn't just taste good; it looks good too! The presentation of Thai dishes is often considered an art form, showcasing the intricate designs and vibrant colors of the ingredients.
Take Family Thais for example. Our chefs take the time to make even the simplest dish irresistible to the eyes. From the deep red hue of a steaming serving of Red Curry to the bright pink of Thai Fish Cakes, the visual appeal of Thai cuisine adds another layer to the captivating experience of Thai food.
Satisfy Your Craving Today at Family Thais
Now you know what makes Thai food so special and part of why our lead chef decided to open up Family Thais in Downtown Dallas, we invite you to step into our doorway for a taste of Thai.
Whether you want something spicy, savory, or sweet, we have something to serve up in short order! Check out our online menu now!